Special
Why Haiti? Why L'Ecole de Choix?
Laura Pincus Hartman (Board Chair) and Dr. Mary Clisbee (Choix Principal) offer the following perspectives on the above questions.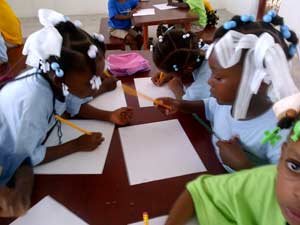 These are questions that we both hear repeatedly in our everyday interactions and we are happy to respond.  Let's begin with the question of Choix's distinctions, which are easier to recognize if we look first to the standard Haitian school.
After the 2010 earthquake, schools certainly were being rebuilt, but most children living in conditions of extreme poverty had no access to school or only to low quality schools lacking electricity, technology, meals and textbooks, and would be taught by teachers who themselves were under-prepared.
Funding was and is coming into Haiti but, with thousands of schools in need of complete restorations, only so much can be done to each school – and each was in desperate need before the earthquake.
But Choix Is Different
First, Choix offers its students a quality education with a focus on leadership in the footsteps of Haiti's great leaders of its history.  The intent is to provide the tools and knowledge necessary so the students' own wisdom and dignity can lead them toward accountable decision-making.  We provide the tools so the students can make the most effective choices.
With instruction in English, complemented by classes in French and Creole, Choix is different.  It offers highly prepared teachers who are paid a living wage, a technology lab, schoolbooks, a safe environment, school meals, and much more.
Choix has emerged as a positive and innovative disruption to the status quo of education in Haiti, deeply honoring Haiti's rich culture, while fostering a strong future for its children.  Haiti's history of liberty over oppression – and its future – is far too precious to abandon, and we will not.
Haiti Is Different
People ask why we do our work in Haiti, as opposed to engaging in our work outside of our front doors, in Chicago, Miami or wherever else we find ourselves.  Our answers are many.  First, we do!  All of those involved with L'Ecole de Choix are also exceptionally involved in the many communities in which we also do our work.
However, in addition to any active role we may play, we acknowledge that that there are plenty of exceptional colleagues contributing to causes in the United States, and doing a very good job.  There are very few Mary's and Laura's in Haiti, just off the coast of our own country.  We serve a role in Haiti and we enjoy knowing that we each can have an impact partnering with the students and families of our Choix community.
As we stated in the outset, Haiti, too, is different.  Haiti represents – for humankind everywhere – freedom and liberty from oppression, the very first time an enslaved people overcame their oppressors to give birth to a free state.  For people of color, in particular, Haiti is the first Black-led Republic on the planet and represents a self-determination of independence that can be a model for us all.
Our students at Choix have already learned a great deal.  Please click here for our 4th grader Christophe's extraordinary homage to leader of the Haitian Revolution, Toussaint Louverture (and please do keep in mind that, though this was written in April 2012, young Christophe only began to learn English in November, 2011!!).
Why Haiti?  Why Choix?  Dr. Mary and Laura are deeply honored to have the privilege to work alongside these children and teachers.  They often ask back to the inquirer, Why not?  How can one not?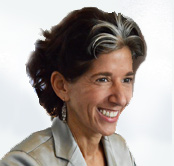 Laura Pincus Hartman, J.D.
Board Chair, School of Choice Education Organization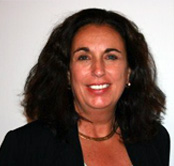 Dr. Mary Clisbee, Ph.D.
Principal, L'Ecole de Choix